Baghouse Filter Bag For Metal Smelting and Refining 240908
With more than 30 years baghouse filter bags suppliers of serving Baghouse Filter Bag for air pollution control of Iron steel plants, Ferrous and Non ferrous metal production process, casting,smelting refining and foundries, we provide high quality filters for baghouse dust collection system and baghouse filter bag selection ,operation instruction and maintenance support.
Normal Size of the filter bags are 130 x 3000mm, 160 x 3000mm, 160 x 4500 mm, 160 mm x 6000mm, 152 x 5000 mm, etc.
High Temperature filter material : Nomex Aramid Needle Felt, PTFE Needle Felt , PPS / Ryton Needle Felt, Fiberglass woven fabrics.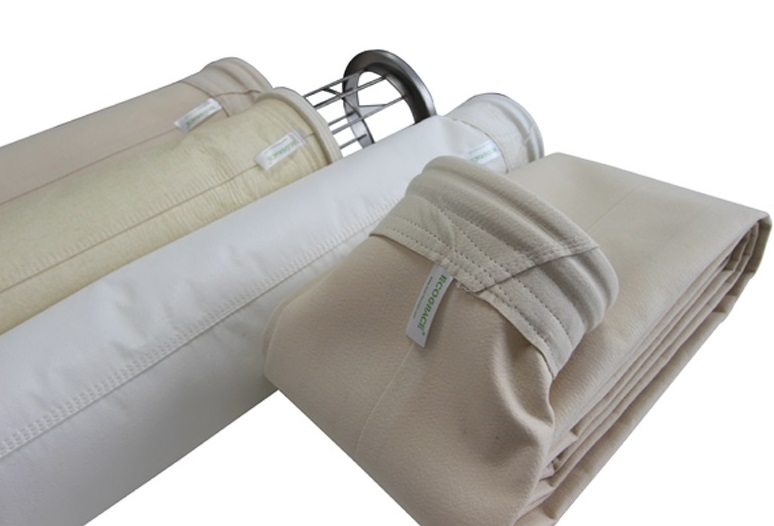 The Bag Filter is a dust control device whose purpose is removing the dust contained in the exhaust gases from industrial process. It is applied to the various applications with different temperature and type of gasses by selecting the filter media accordingly.
The advantage of Bag house bags over the cyclone collector is that it can collect the submicron particles.
The baghouse or fabric filter can be safely operated only within the temperature range specified by the manufacturer. Fluctuation outside of these limits even for a small period, can damage the bags. The upper limit is determined by the permissible temperature of bags filter material, while the lower one depends on the dew point the resulting range of the flue gas temperature at the baghouse inlet is relatively small. For example, for a filter in a semi-dry FGD (NID type) plant in a Polish power plant, this range is 118–128°C with allowing the short-term operation in the range of 112–135°C.
The outlet temperature of this device is 85–90°C, or even lower. Such a system requires a chimney protected against corrosion.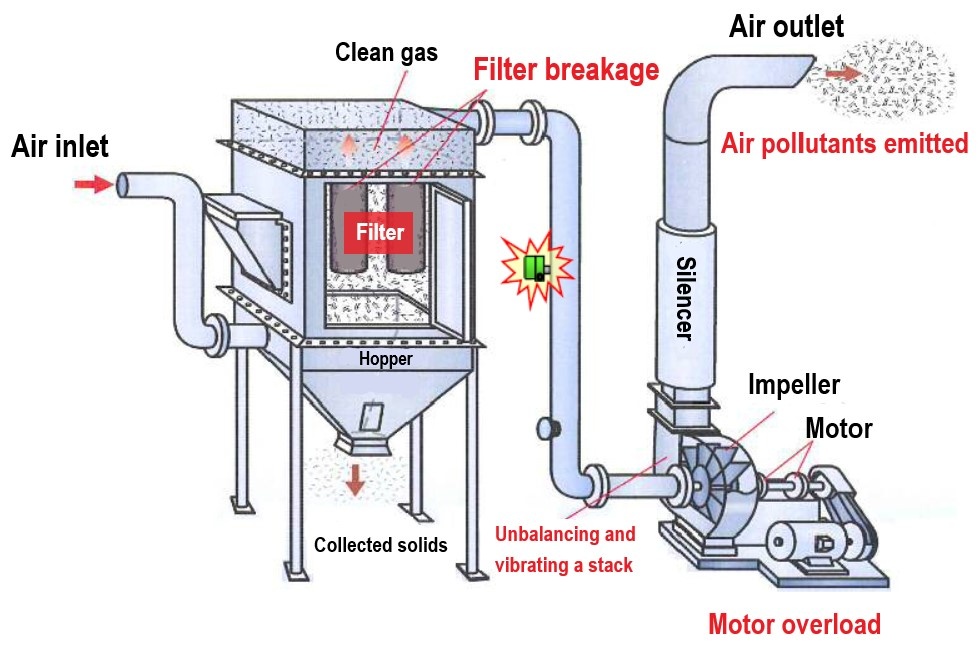 The particle sources may from :
Particles in steel plants and foundries is generated in different process of operation, air pollution control which may contain mineral oxides, metals particles ( Aluminium , Cadmium, Copper, Lead, Nickel, chromium, Zinc, manganese) and metal oxides.
• Melting and refining activities
• Heating and remelting furnaces
• Mechanical action (e.g. scarfing, grinding and sand blasting)
• Materials handling (e.g. raw materials, additive, recycled and waste materials, and by-products)
• Coal storage, conveying, charging, coking, pushing, and quenching
• Continuous casting (transfer of molten steel to the mold and cutting of the final product by oxy-fuel torches)
• Thermal processes including coke making, sintering ,  pelletizing, and direct reduction in most foundries
Baghouse dust collector , Baghouse filter working principle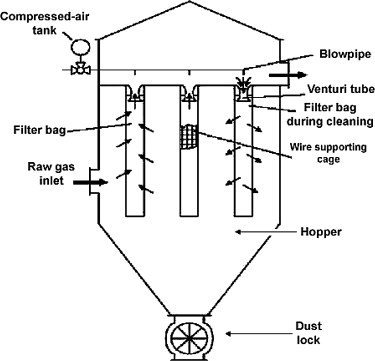 Baghouse Structure
The Baghouse Filter separates dust from the exhaust gas by collecting them with the filter media. The dust is accumulated on the surface of filter media. And the filter media is cleaned by reverse airflow called backwashing (pulse-jet).
The filter bag has a selection of filter media. The materials from which the filter is made varies from polyester, heat-resistant nylon to glass fiber. It is selected depending on the conditions such as characteristics of gas or dust.
The filter media is consumable parts. When it is damaged or worn, the dust may leak outdoors.
About Createch
Createch is the top manufacturer of industrial dust collector equipment and dust collector Aramid filter bag in China. With over 25 years experience in the air pollution control and powder material handling, we have served industries including metallurgy, food , chemical, mining, asphalt mixing, waste recycling ,waste burning power generation, etc.