Industrial Dust Collector Air Flow 2000- 100,000 CFM
As industrial dust collector manufacturers , We design and install dust collection systems , small industrial dust collector , dust collection systems for manufacturing facilities.
We works with a full line of dust collectors and filters. After installation, we provide maintenance services and replacement fabric filters for the dust collection equipment.
We will provide cleaner working environments, allowing your workers free of pollutants industrial dust collection . Dust collection systems helps your manufacturing or production facility stay efficient and productive, while meeting local environment protection requirements.Types of industrial dust collectors :
How do industrial dust filter system work? What type of dust collector is best?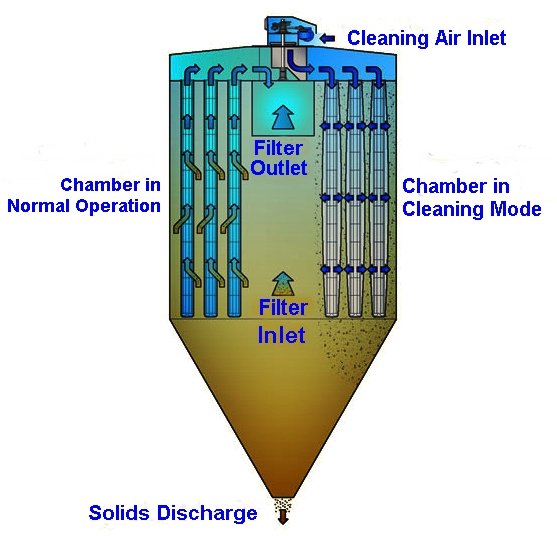 Dirty air containing ash dust particles enters the chamber house of collector through the ductwork.
Fans either push or pull the air through the ducts.
The air hits a set of baffles, which are angled pieces of metal panel that slow it down.
As a result, this keeps the dust from hitting the filters at full speed.
Then , At the bottom of this space, collected dust drops out into a drum or hopper.
Application Industry :
Ferrous metallurgy;
Nonferrous metallurgy;
Building materials industry;
Engineering;
Foundry;
Metal working;
Glass industry;
Chemical industry;
Mining industry;
Food industry;
Woodworking and furniture industry
Cartridge Dust Collectors
In a cartridge dust collection system, dust is moved to a dust collection unit, where the dust passes through filter cartridges. These cartridges are installed with pleated filtering media, where dust is filtered. The pleated filter media offers a greater filtering area.
Cartridge collectors filter a wide range of particulates and dust form industrial workspaces. This type of industrial dust collector systems may be used in laboratories, pharma, agricultural, food processing, metalworking, or other manufacturing facilities.
Baghouse Dust Collectors
Baghouses Dust collectors are highly efficient dust collection systems that use groups of woven or felt filter bags to filter flue dustry gas. The flue dust enters the baghouse compartment, bag filters remove up to 99% of dust of the stream. The cleaned air comes out. The shake off will be started when the bag filter is with quantity dust. After that, filtering process begins again.
Cyclone Dust Collectors
Cyclone dust collectors are ideal for production applications with a large dust load, high temperature, and product recovery. The cyclone dust collection system uses centrifugal force to separate dust particles from the air. An air intake moves dirty air at an angle into the cyclone chamber, where the dust particles hit a helix-shaped baffle, and then the cylinder wall. Cyclone Dust Collectors
Centrifugal force drops the heavy particles to the bottom of the unit. Smaller particles may be filtered out by a smaller vortex. Clean air passes back out through an outlet valve.
CREATECH Types of Industrial Dust Collection System
Specification of Bag Filter Dust Collector
Type
Air Volume
(m3/h)
Filter Bag Qty
(pcs)
Filter Bag Size
(mm)
Size
(mm)
Weight (kg)
Shipment
Volume
(m3)
Compressed
Air
Required
(m3/min)
ECP-60
3000 – 5000
60
130 X 2500
1830 X 1150 X 6120
2100
11.00
0.50
ECP-80
4000 – 6800
80
130 X 2500
1830 X 1491 X 6120
2900
15.40
0.50
ECP-100
5100 – 8400
100
130 X 2500
1830 X 1830 X 6120
4000
21.00
0.50
ECP-120
6100 – 10000
120
130 X 2500
1830 X 2170 X 6120
5300
24.50
0.50
ECP-160
8100 – 13000
160
130 X 2500
1830 X 2850 X 6120
7000
40.00
0.80
ECP-200
10000 – 17000
200
130 X 2500
1830 X 3530 X 6120
8900
59.00
0.80
ECP-240
12000 – 20000
240
130 X 2500
1830 X 4210 X 6120
9600
65.00
0.80
ECP-280
14000 – 23000
280
130 X 2500
1830 X 4890 X 6476
10300
82.00
1.00
ECP-360
18000 – 30000
360
130 X 2500
1830 X 6250 X 6476
12400
100.00
1.00
ECP-440
22000 – 37000
440
130 X 2500
1830 X 7610 X 6476
14200
172.48
1.50
ECP-480
24000 – 40000
480
130 X 2500
1830 X 8290 X 6476
15300
258.72
1.50
ECP-560
28000 – 47000
560
130 X 2500
1830 X 9650 X 6476
17800
340.00
1.50
ECP-640
32000 – 53760
640
130 X 2500
1830 X 11010 X 6476
20650
420.00
2.00
Specification of CREATECH Baghouse Dust Collector
Specification of Cartridge Dust Collector
| | | | |
| --- | --- | --- | --- |
| Model No. | Air Flow m3/h | Filtration Area m2 | Blower Power KW |
| ECC-4 | 3000 | 60 | 5.5 |
| ECC-8 | 6000 | 120 | 7.5 |
| ECC-12 | 9000 | 180 | 11 |
| ECC-16 | 12000 | 240 | 15 OR 18.5 |
| ECC-24 | 18000 | 360 | 22 |
| ECC-32 | 24000 | 480 | 30 |
| ECC-40 | 30000 | 600 | 37 |
| ECC-48 | 36000 | 720 | 37 |
| ECC-64 | 56000 | 860 | 45 |
Specification of CEATECH Cartridge Dust Collector